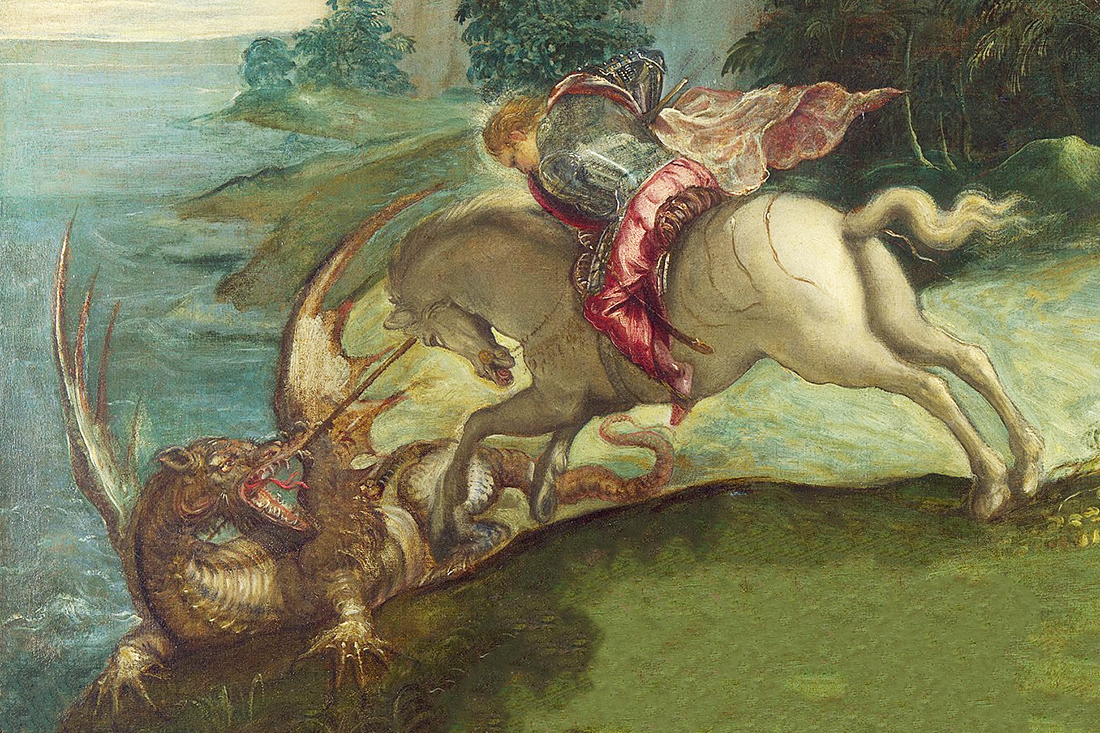 So on this day let's celebrate
England's valleys full of light,
The green fire of the landscape
Lakes shivering with delight

—from "The True Dragon" by Brian Patten
The Feast of Saint George is celebrated in Western countries on April 23rd each year. As the patron saint of their country, George is particularly popular with the English (and those anglophiles among us who love their culture, history, and "valleys full of light"). Though nothing certain is known about George's life, there are some "facts" that are generally accepted. St. George was born in the third century A.D. in Cappodocia (modern-day Turkey). Raised in a Christian home, George joined the Roman army and served in the guard of the Emperor Diocletian. When confronted by the emperor and asked to renounce his faith, he refused. He was subsequently imprisoned, tortured, and executed in Lydda, Palestine on 23 April 303 A.D.
The most popular legend connected to the life of St. George is his defeat of an evil dragon that was terrorizing the countryside. This story became wildly popular in England, mostly due to the publication in the fifteenth century of a book called The Golden Legend. George's signature look—a suit of armor and white shield emblazoned with a red cross—grew out of this legend. The romantic image of St. George rescuing a fair maiden from a terrifying monster is in line with the medieval masculine ideal, the miles Christi or "knight of Christ." Though obviously not an entirely factual account of a true historic event, the legend of St. George and the dragon has deep roots in Christian theology: Christ (the knight victorious) triumphs over the horrors of evil.
At our house, we celebrate St. George's Day with an English-style tea party and a reading of St. George and the Dragon, written by Margaret Hodges and beautifully illustrated by Tina Schart Hyman. We like to make Cream Tea scones and sip Twinings' Prince of Wales tea. We serve everything on beautiful English china I got at a second-hand store. As always, I'd like to stress that celebrating the Christian year should be fun, meaningful, and strengthen our connection to God—no need to get stressed or break the budget.
SELECTED SOURCES
"Saint George," BBC Religions, www.bbc.co.uk/religion
"Who is St. George," St. George's Basilica, www.StGeorge.org.mt
Celebrate George and England with some tasty scones!
Cream Tea Scones
adapted from King Arthur Flour
Makes 12 scones
Ingredients:
3 c all-purpose flour
1 Tbsp baking powder
1 tsp salt
1/4 c granulated sugar
1 tsp vanilla extract
1 1/2 cups heavy or whipping cream
additional heavy cream, for brushing on scones
additional sugar, for topping
Directions:
1. Preheat the oven to 425°F. Whisk together the flour, baking powder, salt, and sugar.
2. Sprinkle the vanilla over the dry ingredients, then drizzle in the cream, tossing and stirring gently all the while and adding just enough to make a cohesive dough. There shouldn't be any dry flour in the bottom of the bowl, but the dough shouldn't be particularly sticky, either.
3. Divide the dough in half, and gently pat each half into a 5 1/2″ circle about 3/4″ thick.
4. Brush each circle with heavy cream, and sprinkle with sugar, if desired.
5. Place the two circles of dough on the baking sheet, and cut each into 6 wedges. Pull the wedges apart a bit, leaving them in a circular pattern with about 1″ space between each wedge.
6. Bake scones for about 15 minutes, until starting to brown and baked all the way through.
Serve warm, split and spread with a bit of sweet butter and jam or preserves.