In her book Celebrating Festivals with Children, Brigitte Barz suggests crafting thirty-three rose Christmas ornaments to represent Christ's life on Earth—thirty red and three white (to represent the years from Christ's Baptism to His Passion). Barz notes that Rudolf Steiner saw the roses on the tree as "a symbol of the victory of the eternal over the temporal."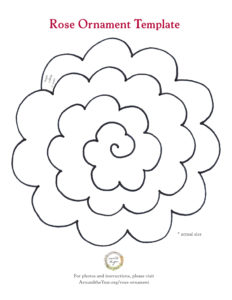 Barz recommends making the roses from tissue paper, but I thought that crafting them from wool felt would work just as well and help them last much longer. I found an excellent tutorial for making felt roses at The Magic Onions, which I used to make the beautiful ornaments in these pictures. I am no good at freehand cutting, so I made myself a paper template that I could trace on wax paper and then cut, over and over again for each rose—I've made a PDF of my template that you can use if you wish (click image to download).
Supplies:
100% pure wool felt, red and white
wax paper
scissors
sewing pins
hot glue gun and glue
twine or string, for hanging
rose ornament template, if desired
Instructions:
1. Measure and cut an 8″ x 8″ piece of red or white wool felt. I bought 1.5 yards of red and 0.5 yards of white merino wool felt from Weir Crafts—they offer excellent quality and fast shipping for a good price.
2. Trace outline of template (if using) onto a sheet of wax paper, and then pin wax paper to felt square, trimming off excess wax paper.
3. Cut along the traced lines through both the wax paper and the felt—cut around the outside first, and then spiral in toward the center.
4. Remove the wax paper and pins from the felt, and begin rolling the felt from the end toward the center.*
5. Secure the rolled up felt by gluing the center of the spiral to the bottom (it will be the bit you have left at the end of the roll).
6. Cut twine to desired length, fold in a loop, and glue loop ends to the center of the bottom of the rose.
7. Cut a small circle of felt to glue over the exposed ends of the twine.
Detailed instructions can be found at The Magic Onions blog.
*IMPORTANT NOTE: You are meant to roll the felt from the end toward the center, not the other way around—I made several the wrong way before I realized my mistake! The backwards ones still look like roses, but they are more concave and not as pretty.