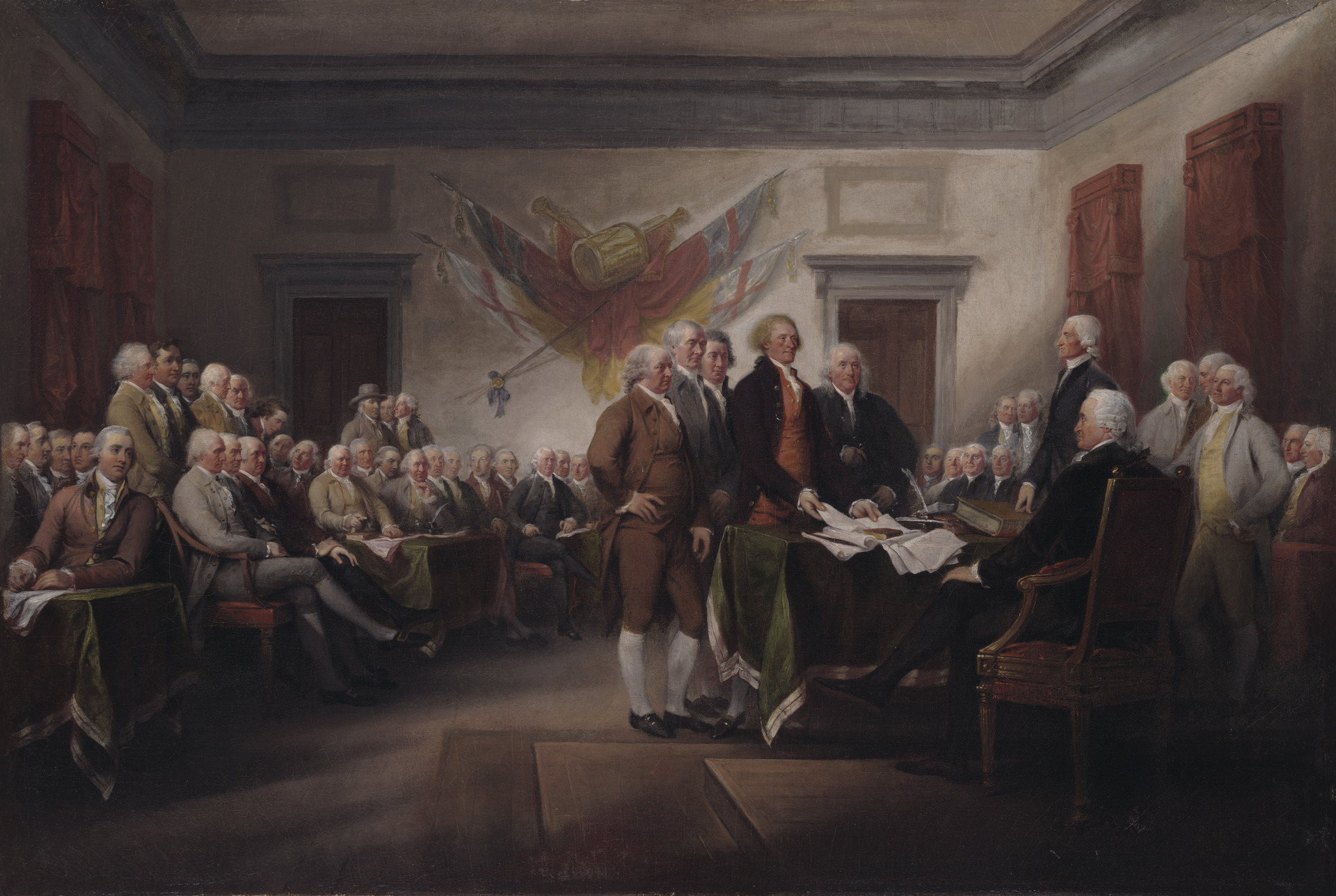 The American Society in London gave a banquet, July 4, 1907, at the Hotel Cecil. Ambassador Choate called on Mr. Clemens to respond to the toast "The Day We Celebrate."
MR. CHAIRMAN, MY LORD, AND GENTLEMEN,—Once more it happens, as it has happened so often since I arrived in England a week or two ago, that instead of celebrating the Fourth of July properly as has been indicated, I have to first take care of my personal character. Sir Mortimer Durand still remains unconvinced. Well, I tried to convince these people from the beginning that I did not take the Ascot Cup; and as I have failed to convince anybody that I did not take the cup, I might as well confess I did take it and be done with it. I don't see why this uncharitable feeling should follow me everywhere, and why I should have that crime thrown up to me on all occasions. The tears that I have wept over it ought to have created a different feeling than this—and, besides, I don't think it is very right or fair that, considering England has been trying to take a cup of ours for forty years—I don't see why they should take so much trouble when I tried to go into the business myself.
Sir Mortimer Durand, too, has had trouble from going to a dinner here, and he has told you what he suffered in consequence. But what did he suffer? He only missed his train, and one night of discomfort, and he remembers it to this day. Oh! if you could only think what I have suffered from a similar circumstance. Two or three years ago, in New York, with that Society there which is made up of people from all British Colonies, and from Great Britain generally, who were educated in British colleges and British schools, I was there to respond to a toast of some kind or other, and I did then what I have been in the habit of doing, from a selfish motive, for a long time, and that is, I got myself placed No, 3 in the list of speakers—then you get home early.
I had to go five miles up-river, and had to catch a particular train or not get there. But see the magnanimity which is born in me, which I have cultivated all my life. A very famous and very great British clergyman came to me presently, and he said: "I am away down in the list; I have got to catch a certain train this Saturday night; if I don't catch that train I shall be carried beyond midnight and break the Sabbath. Won't you change places with me?" I said: "Certainly I will." I did it at once. Now, see what happened.
Talk about Sir Mortimer Durand's sufferings for a single night! I have suffered ever since because I saved that gentleman from breaking the Sabbath-yes, saved him. I took his place, but I lost my train, and it was I who broke the Sabbath. Up to that time I never had broken the Sabbath in my life, and from that day to this I never have kept it.
Oh! I am learning much here to-night. I find I didn't know anything about the American Society—that is, I didn't know its chief virtue. I didn't know its chief virtue until his Excellency our Ambassador revealed it—I may say, exposed it. I was intending to go home on the 13th of this month, but I look upon that in a different light now. I am going to stay here until the American Society pays my passage.
Our Ambassador has spoken of our Fourth of July and the noise it makes. We have got a double Fourth of July—a daylight Fourth and a midnight Fourth. During the day in America, as our Ambassador has indicated, we keep the Fourth of July properly in a reverent spirit. We devote it to teaching our children patriotic things—reverence for the Declaration of Independence. We honor the day all through the daylight hours, and when night comes we dishonor it. Presently—before long—they are getting nearly ready to begin now—on the Atlantic coast, when night shuts down, that pandemonium will begin, and there will be noise, and noise, and noise—all night long—and there will be more than noise there will be people crippled, there will be people killed, there will be people who will lose their eyes, and all through that permission which we give to irresponsible boys to play with firearms and fire-crackers, and all sorts of dangerous things: We turn that Fourth of July, alas! over to rowdies to drink and get drunk and make the night hideous, and we cripple and kill more people than you would imagine.
We probably began to celebrate our Fourth-of-July night in that way one hundred and twenty-five years ago, and on every Fourth-of-July night since these horrors have grown and grown, until now, in our five thousand towns of America, somebody gets killed or crippled on every Fourth-of-July night, besides those cases of sick persons whom we never hear of, who die as the result of the noise or the shock. They cripple and kill more people on the Fourth of July in America than they kill and cripple in our wars nowadays, and there are no pensions for these folk. And, too, we burn houses. Really we destroy more property on every Fourth-of-July night than the whole of the United States was worth one hundred and twenty-five years ago. Really our Fourth of July is our day of mourning, our day of sorrow. Fifty thousand people who have lost friends, or who have had friends crippled, receive that Fourth of July, when it comes, as a day of mourning for the losses they have sustained in their families.
I have suffered in that way myself. I have had relatives killed in that way. One was in Chicago years ago—an uncle of mine, just as good an uncle as I have ever had, and I had lots of them—yes, uncles to burn, uncles to spare. This poor uncle, full of patriotism, opened his mouth to hurrah, and a rocket went down his throat. Before that man could ask for a drink of water to quench that thing, it blew up and scattered him all over the forty-five States, and—really, now, this is true—I know about it myself—twenty-four hours after that it was raining buttons, recognizable as his, on the Atlantic seaboard. A person cannot have a disaster like that and be entirely cheerful the rest of his life. I had another uncle, on an entirely different Fourth of July, who was blown up that way, and really it trimmed him as it would a tree. He had hardly a limb left on him anywhere. All we have left now is an expurgated edition of that uncle. But never mind about these things; they are merely passing matters. Don't let me make you sad.
Sir Mortimer Durand said that you, the English people, gave up your colonies over there—got tired of them—and did it with reluctance. Now I wish you just to consider that he was right about that, and that he had his reasons for saying that England did not look upon our Revolution as a foreign war, but as a civil war fought by Englishmen.
Our Fourth of July which we honor so much, and which we love so much, and which we take so much pride in, is an English institution, not an American one, and it comes of a great ancestry. The first Fourth of July in that noble genealogy dates back seven centuries lacking eight years. That is the day of the Great Charter—the Magna Charta—which was born at Runnymede in the next to the last year of King John, and portions of the liberties secured thus by those hardy Barons from that reluctant King John are a part of our Declaration of Independence, of our Fourth of July, of our American liberties. And the second of those Fourths of July was not born until four centuries later, in, Charles the First's time, in the Bill of Rights, and that is ours, that is part of our liberties. The next one was still English, in New England, where they established that principle which remains with us to this day, and will continue to remain with us—no taxation without representation. That is always going to stand, and that the English Colonies in New England gave us.
The Fourth of July, and the one which you are celebrating now, born, in Philadelphia on the 4th of July, 1776—that is English, too. It is not American. Those were English colonists, subjects of King George III., Englishmen at heart, who protested against the oppressions of the Home Government. Though they proposed to cure those oppressions and remove them, still remaining under the Crown, they were not intending a revolution. The revolution was brought about by circumstances which they could not control. The Declaration of Independence was written by a British subject, every name signed to it was the name of a British subject. There was not the name of a single American attached to the Declaration of Independence—in fact, there was not an American in the country in that day except the Indians out on the plains. They were Englishmen, all Englishmen—Americans did not begin until seven years later, when that Fourth of July had become seven years old, and then, the American Republic was established. Since then, there have been Americans. So you see what we owe to England in the matter of liberties.
We have, however, one Fourth of July which is absolutely our own, and that is that great proclamation issued forty years ago by that great American to whom Sir Mortimer Durand paid that just and beautiful tribute—Abraham Lincoln. Lincoln's proclamation, which not only set the black slaves free, but set the white man free also. The owner was set free from the burden and offence, that sad condition of things where he was in so many instances a master and owner of slaves when he did not want to be. That proclamation set them all free. But even in this matter England suggested it, for England had set her slaves free thirty years before, and we followed her example. We always followed her example, whether it was good or bad.
And it was an English judge that issued that other great proclamation, and established that great principle that, when a slave, let him belong to whom he may, and let him come whence he may, sets his foot upon English soil, his fetters by that act fall away and he is a free man before the world. We followed the example of 1833, and we freed our slaves as I have said.
It is true, then, that all our Fourths of July, and we have five of them, England gave to us, except that one that I have mentioned—the Emancipation Proclamation, and, lest we forget, let us all remember that we owe these things to England. Let us be able to say to Old England, this great-hearted, venerable old mother of the race, you gave us our Fourths of July that we love and that we honor and revere, you gave us the Declaration of Independence, which is the Charter of our rights, you, the venerable Mother of Liberties, the Protector of Anglo-Saxon Freedom—you gave us these things, and we do most honestly thank you for them.