Blessed are they that have not seen, and yet have believed.
—John 20:29
1Do not fear, for I have redeemed you; I have called you by name, you are mine. 2When you pass through the waters, I will be with you; and through the rivers, they shall not overwhelm you; when you walk through fire you shall not be burned, and the flame shall not consume you. 3For I am the Lord your God, the Holy One of Israel, your Savior. 5Do not fear, for I am with you; 10You are my witnesses, says the Lord, and my servant whom I have chosen, so that you may know and believe me and understand that I am he.
—Isaiah 43:1-3, 5, 10
The good news!
The word "evangelize" sometimes has negative connotations associated with it, mostly due to cultural baggage it picked up during the twentieth century. But, did you know that to be an evangelist in the early church simply meant that one was, etymologically speaking, a "bringer of good news"? It's true! Evangelism comes to English speakers via the Old French evangile or "preaching of the gospel," which is derived from the Latin evangelium, "good news, gospel," and before that the Classical Greek euangelion, meaning "the reward of good tidings." Underlying it all is a connection to the Greek word angelos from which we derive the English word angel.
As you can see, the original meaning of "evangelizing" had little to do with one's position on social or political issues, and everything to do with being the bearer of good news! So, what is the good news? In the Scripture quote above, God (speaking through Isaiah) lays it all out in fairly certain terms: God loves all of creation, He knows us all by name, and calls us to be in relationship with Him and to be witnesses of His grace and mercy. Despite the fact that we all sin against God, we have been redeemed—by God's grace—through Jesus Christ who, being both fully divine and fully human, was crucified, died, was buried, and was raised to life on the third day. We also believe that Christ will come again in glory, and that his kingdom will have no end. Those who trust in the Lord will have everlasting life with God. It's a lot to wrap one's head around, I know, but this is partially why Christians sometimes refer to aspects of our faith as "mysteries"—we don't know, and we can't know—but we do trust that it is all part of God's plan and try to live our lives accordingly. Having doubts is part of the package and there is no such thing as a perfect Christian (that's kind of the whole point, isn't it?). There is no better time than right now to begin or rekindle your relationship with God—He is calling you by name at this very moment!
1Remember also your Creator in the days of your youth, before the evil days come, and the years draw nigh, when you will say, "I have no pleasure in them"; 2 before the sun and the light and the moon and the stars are darkened and the clouds return after the rain…7 and the dust returns to the earth as it was, and the spirit returns to God who gave it.
— Ecclesiastes 12:1-2,7
A manifestation of God's love.
Here at around the year, I aim to evangelize and bring the good news. I have found that a celebration of the Christian year as a spiritual discipline deepens my faith, and gives me the opportunity to share my experience of God's love with family and friends. I feel blessed to be in a constantly evolving relationship with God, and around the year is one manifestation of this relationship—everything you see on this website, and in my newsletters, has been brought about through the workings of God in my life. In short, around the year is one of the ways I respond to God calling me to Him, over and over again—my work here is one way that I act as God's witness in the world. By making space for God in our lives, through prayer and contemplation, reading Scripture, engaging in Christian fellowship, celebrating the beauty of God's creation, and observing the Christian feasts and holy days throughout the year, we are answering His invitation to love and be loved by Him, and to share His love with others.
10For as the rain and the snow come down from heaven, and do not return there until they have watered the earth, making it bring forth and sprout, giving seed to the sower and bread to the eater, 11so shall my word be that goes out from my mouth; it shall not return to me empty, but it shall accomplish that which I purpose, and succeed in the thing for which I sent it.
— Isaiah 55:10-11
A closer look at the origins of our seasonal, cultural, and liturgical traditions.
The Western liturgical year (or Christian year), which is the collection of feast days, saints' days, holy days, and cycle of scriptures to be read, has existed for a very long time. Even though the Christian faith now encompasses many different denominations—or, "ways of doing things"—the liturgical calendar was already in place prior to the changes that brought about the creation of these many branches. And, many of the important days in the Christian calendar already held marked significance for our pagan forbears, as they denoted the changes in seasons and other phenomena in the natural world. When we align ourselves to the movement of the seasons and the liturgical year, we are placing ourselves on a continuum of cyclical human activity that reaches back thousands of years into the past. Incorporating the feasts, festivals, and traditions of our ancestors into our lives gives us the opportunity to exist outside of our individual experiences. And, it gives us a chance to protect what has come before us, and to send it off into the future so that the coming generations will be able to find their place on the continuum, too. Lastly, the celebration and observance of important dates throughout the Christian year should be part of our spiritual practice; it glorifies God and enriches our faith.

Where do we start?
The absolute first place to start is by making sure to schedule lots of time outside in the natural world and, if possible, to find a spiritual home (i.e. a church). Spending time in nature is a wonderful way to be in communication with God, and to really understand and feel the movement of time throughout the year. Having a place to worship on a regular basis (not just Christmas Eve and Easter) will also strengthen one's faith, and provide opportunities to celebrate the Christian year in community with others. If you're local and looking for a place of worship, you might consider joining me at St. John's Episcopal Church in Walpole, NH.
While the earth remains, seedtime and harvest, cold and heat, summer and winter, day and night, shall not cease.
— Genesis 8:22
Above and beyond that, perhaps the easiest place to start if you want to align yourself with an older manner of timekeeping is with observance and celebration of the four seasons: Winter, spring, summer, and autumn. Each season is marked by changes in weather, in some places more extreme than others, and their arrival is announced by either a solstice (winter and summer) or an equinox (spring and autumn). Each of the seasons also has its own festival times. For example, Christmastide comes in winter, Eastertide in spring, St. John's tide in summer, and Michaelmastide in autumn. Some of these Christian festivals are also celebrated as secular holidays in the United States, but they are derived from a Christian feast day, and their ultimate origins suggest a relationship with the pagan religions of our ancestral past.

In my home we do a couple of things to mark the change in the seasons: We have a nature table for the children; we have a branch mobile in our kitchen that we decorate each season; and I make subtle changes to other decor around the house, such as the pictures hanging in various rooms. These simple things have made a tremendous difference in my life. Nothing moves too fast or too slow because I am fully immersed in the changes that are occurring all around me in God's creation—the natural world.
What about celebrating the Christian year?
A celebration and embracing of the four seasons of nature creates the perfect foundation for additional layers of meaning, and this is where the liturgical calendar comes into play. The Christian year, like the solar year, is also divided into seasons, which are as follows: Advent, Christmas, Ordinary Time (Time after Epiphany), Lent, Easter, and Ordinary Time (Time after Pentecost). [Note: The "ordinary" in Ordinary Time refers to ordinal numbers, not to something being common or basic.] Each of these different seasons corresponds to a color, which provides an opportunity to incorporate aspects of the Christian year into one's home and everyday life. For example, I like to put out a few candles on my dining table and use them throughout each season (i.e. white candles at Eastertide, green in Ordinary Time, etc). A home altar could be constructed and decorated with the appropriate liturgical color for each season.
Advent – Violet or Blue
Christmas – White
Ordinary Time – Green
Lent – Violet
Easter – White
Pentecost – Red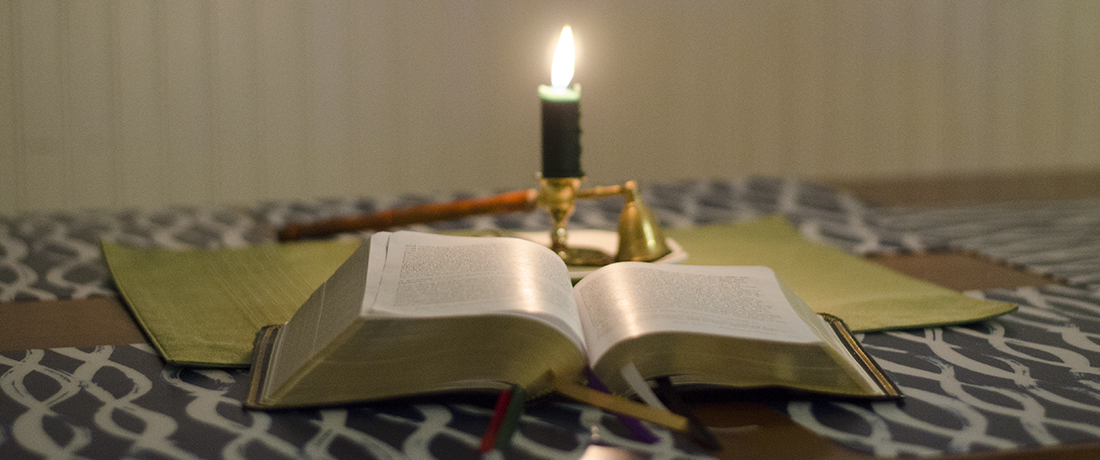 Once observance of the seasons of the Christian year has been established, then incorporating the feasts and holy days is the next logical step. Because there are so many feast days, saints' days, and other holy days in the Christian year, it would be fairly well impossible to celebrate all of them every year. I recommend starting out slowly with just a few that speak to you, and then building on that over time. The point of any of these practices is to draw closer to God and to grow, spiritually. Getting lost in the details and trying to do too much will likely cause the opposite to happen. If you can't get it together and miss a feast day, fear not! God willing, you'll live to see another Michaelmas. So, why not start with one special day per season, and then add more when you feel ready? Here's a good list of feasts, festivals, and holy days to get you started.
The following dates are for the year 2017:
Winter
Spring
Summer
Autumn
December 21st — Winter Solstice
March 20th — Vernal Equinox
June 21st — Summer Solstice
September 22nd — Autumnal Equinox
December 25th — Christmas
(click here)
April 16th — Easter
(link to come)
June 23rd — Midsummer's Eve
(link to come)
September 29th — Michaelmas
(click here)
January 6th — Epiphany
(click here)
April 25th — St. George's Day
(click here)
June 24th — St. John's Day
(link to come)
November 1st — All Saints' Day
(link to come)
February 1st — St. Brigid's Day
(click here)
 May 1st — May Day
(link to come)
July 26th — St. Anne's Day
(link to come)
November 11th — Martinmas
(click here)
February 2nd — Candlemas
(click here)
 May 15th– Whitsunday
(link to come)
 August 1st — Lammas Day
(link to come)
December 6th — St. Nicholas Day
(click here)
February 14th — St. Valentine's Day
(link to come)
December 13th — St. Lucy's Day
(link to come)
March 17th — St. Patrick's Day
(link to come)
Each season also has its own Ember Days, a series of Wednesdays, Fridays, and Saturdays during which time faithful Christians engage in fasting, almsgiving, and contemplation of God's creation. More information can be found HERE.